I can't remember where I was when I opened the email from Sumo, formerly Sumome stating that they recently bought the domain name Sumo.com for 1.5 million dollars.
But I remember what my reaction was.
Here's how I reacted to the news…  
I immediately stopped what I was doing to read the article
I fell out of my chair and broke my leg
I screamed
I cried. Why didn't I think of registering Sumo.com? I could have been sitting on $1.5 million right now and laughing all the way to the bank
Shoulda. Woulda. Coulda. But I didn't.
Who needs real estate or gold when you can sell a domain name worth millions?
The new rich own domain names. Who needs gold or real estate when a 4-letter word can make you a millionaire?
Click To Tweet
So, if you don't know Sumo, formerly Sumome you need to know.
Sumo is a marketing tools app, which powers over 500,000 websites.
It was founded by Noah Kagan and was launched in 2014.
Noah Kagan also owns AppSumo, a deals website for entrepreneurs, which he launched in 2010.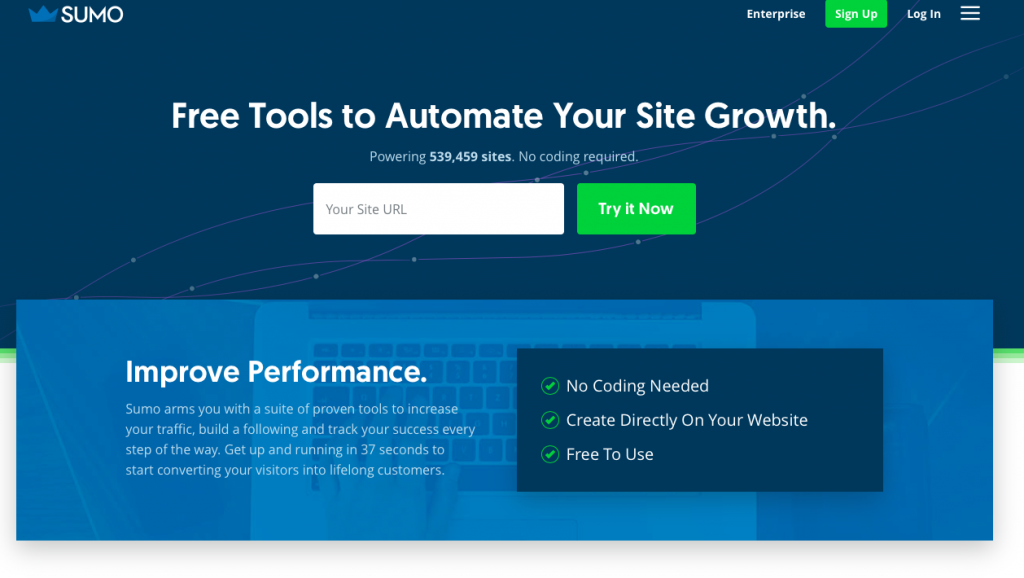 Here's the gag. Noah is only 35 years old. 
Yes, I know he's a bleeding millennial just like you.
Young, dumb and full of… lol
Nope that's the old narrative of millennials.
Here's the new narrative.
He's smart, successful and innovative.
He represents the new rich. 
Young, online business owners' who have become millionaires literally overnight.
Guess what, Sumo.com is the 83rd most expensive domain in the world alongside Russia.com.
Noah Kagan represents the new rich. Young, successful, creative online business owners
Click To Tweet
So how did a small web traffic tools company grow so big in such a short time?
In the words of Noah Kagan.
"We've spent over 4 years building these tools internally to grow our AppSumo Newsletter. It helped us grow to over a million subscribers.
We've noticed lots of people struggle to collect emails because the tools just aren't available or are too expensive. So, we thought, why not make our tools available for you?
Our goal, plain and simple, is to help you grow your website."
Why did Noah buy the domain name?
Sumo.com was already taken. So, Noah tried for years to buy the domain name from the owner but it was literally impossible.
They hired multiple domain name investigators to help them acquire the domain name Sumo.com but the operation failed.
He got people to send fake emails on their behalf to see if the owners of Sumo.com would sell it but they didn't.
He personally sent an email every six months for 7 years but the owner didn't budge until recently when he offered to pay $1.5 million.

So why did Noah Kagan purchase such an expensive domain name?  
1. It's one word
Sumo is one word.
In the words of Noah Kagan "anyone can have a two or three-word name. But one word names? They carry more prestige. Just ask Madonna."
A friend of his owned Facebook.org. He ended up selling it to Mark Zuckerberg for 3,500 shares of Facebook. That's now worth more than $800,000 in value.
2. Those four-letter words
Sumo is easy to remember.
In the words of Noah Kagan "Four-letter words are impressive and easy to remember".
His friend Aaron Patzer owned the domain name Mymint.com but he wanted to buy Mint.com.
So, he offered the owner of Mint.com 3% of his company in exchange for the domain name so when he sold Mint.com – 3% translated to $8.1 million.
3. Plant your flag on top of the hill
Position yourself as the No1 brand.
He bought Sumo.com, not Sumo.net.
Who cares about .net anyways?
In the words of Noah Kagan "You may find yourself in the situation where there are tons of variants of your name. Standing out just gets harder when people confuse you with other companies. That's why we went right to the source. There are many copycat Sumo names in the market but by owning Sumo.com, we're positioned as the original. We are the Sumo.com."
Here's a list of the top 20 most expensive domain names
Insure.com – $16 million – 2009
360.com – $17 million – 2015
Internet.com – $18 million – 2009
PrivateJet.com – $30,180,000 – (2012)
VacationRentals.com – $35,000,000 – (2007)
Insurance.com – $35,600,000 – 2010
CarInsurance.com – $49,700,000 – 2010
LasVegas.com – $90,000,000 – 2005-2040
Bankaholic.com – $15 million – 2008
Sex.com – $13 million – 2010 (Why the heck didn't I think of this? 13 million say what!)
IRS.com – $12,500,000 – 2007
Hotels.com – $11,000,000 – 2001
CardRatings.com – $10,200,000 – 2008
Fund.com – $9,999,950 – 2008
Porn.com – $9,500,000 – 2007
Porno.com – $8,888,888 – 2015
FB.com – $8,500,000 – 2010
RealEstate.com – $8,250,000
We.com – $8,000,000 –  2016
Business.com – $7,500,000 – 1999
Taken from: Most Expensive Domain  
Over to you!
How much is your domain name worth?
Do you have a domain name that you would like to register even though you don't yet have a business idea?
Would you ever buy an expensive domain name?
Do you have online business idea?
I don't know about you but I feel inspired.
Inspired to inspire others to figure out their passion
Inspired to help others to build their online brand
Inspired to see millennials daring to dream.
Time for me to sign off.
I dare you to dream and kick ass!
Stay empowered
empowee 
P.S. If you want to buy a domain name yet you don't have a business idea – try Go Daddy
P.P.S If you want to buy a domain name and you have a blog or business idea – Read this 
Are you thinking of starting a blog? I have designed a short mini-course to talk you through how to start a blog, from the best blogging platform to choose, to how to design your blog. Click here to sign up.