Running a business is hard.
One of the greatest challenges small business owners have is generating clients like clockwork on a monthly basis.
Yes, I know the struggle is real so…
Here are 5 tips to help you to generate more clients:
Understand Your Potential Clients
One of the first things you need to do, is conduct research on your target audience.
When you figure out your ideal client, you are going to better understand how you can tailor your services to address your client's needs.
Consequently, you'll be able to promote your services more effectively as you will have a lot more information about what your potential customers would like to see.
Know your competition
It is crucial to understand the challenges and opportunities within the industry.
It is the problems faced by clients that will allow your business to offer better solutions and hence, better services.
Positioning yourself in accordance with the problems in the industry and by observing any potential competitive businesses is a way to ensure that clients come to you assured that you are offering more value than your competitors.
An effective marketing strategy
Whether you are sending emails, tweeting or sending marketing material by post, calls to action are incredibly important for the overall success of your business.
You need to give clients a button they can click on that would give them all of the information they will need, something that would allow them to subscribe to your services without too much fuss.
Remember, to make it easier you for your clients to get in on what you are offering, the more likely it will be for them to be interested in the services you are willing to provide them with.
Network of Partners
Chances are that you do not provide each and every service that your clients are going to need.
While it may be tempting for you to try and offer all services to your clients, it would be a far better idea for you to streamline your own business to fulfil one need very well, and create a network of partners that would provide services that would complement your own.
This is how you can provide your potential clients with a complete, all-purpose solution, one that would make it so that they would not need to look anywhere else at all.
Instead, you can refer them to partners that you can trust who would do the same for you. In this manner, a network of companies can share clientele and create a much more profitable customer base in the long run.
Optimise your website
Your website is important because it represents your brand.
You want a website that is intuitive and highly efficient and creates a great first impression of you when they land on your website.
It is often said that the 'first impression is the last impression', so make sure that you capture the attention of your client base immediately through an interactive and well-designed, mobile and SEO friendly website.
If you are looking for a developer to build your website, check out Magento Development Company.
Guest Post written by Junaid Ali Qureshi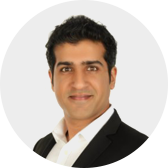 Is a leader of an expert Magento development team and an experienced digital marketing specialist dedicated to develop intuitive, well crafted, smart websites on search engines.
His current ventures include magentodevelopers.online, Elephantation, eLabelz, Smart Leads.ae, Progos Tech and eCig.